Brochure and Leaflet Multi Folding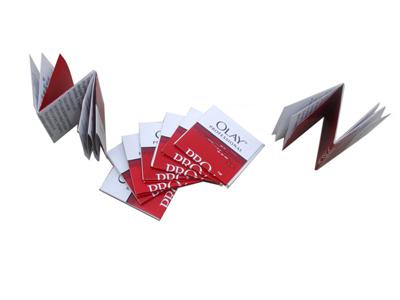 Besides ordinary folding type, there are also more complex requirements for certain special fields, such as greeting cards, children's books, manuals and so on. Compared with other folding methods, multi folding will increase the thickness of the product after folding, and is easy to slip during the folding process which makes the precision lower compared to other processes.
KMD has plenty of experience in dealing with multi folding operations, such as pharmaceutical specifications, electronic product manuals, greeting cards, etc. Our multi folding machines are available for paper folding in the 50mm to 470mm width range.
Generally, considering the problem that the folding machine can easily slip during the running process, we can solve this in the following ways:
Our folding machine adopts a spiral gluing roller, which has a stronger holding force. Even when handling paper with thick varnish or thick paper, the machine will not slip resulting in higher precision.
Because the paper has a certain thickness, the conventional horizontal paper stacker is not easy to operate. So we can change to vertical paper stacker according to the customer's needs.
We recommend the 360T paper folding machine, 470T paper folding machine.