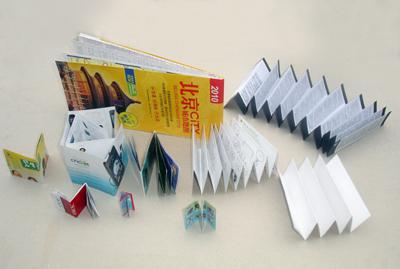 Small size paper folding is a process aimed at making paper easier to fit into packages and fold according to various design schemes to make the products easier to handle.
Possible problems: During the folding process of the micro paper, the adhesion between papers can be strong because of the small area or weight of the paper, so two or more sheets of paper often stick together during the folding process. This will not only affect the speed of folding operation, but also result in a lot of paper waste.
Our folding machine can be used for small size paper folding, which is suitable for paper of widths ranging from 50 to 470mm and will be folded many times. We can handle different types of folding by adding combs and electric control knives. At present, our equipment has been able to fold various kinds of small size paper, such as lottery tickets, various product manuals, brochures, flyers, etc. Considering the problem of strong adhesion of the small paper, we have modified the folding machine by equipping it with a feeder head and vacuum wheel to increase the suction to avoid paper sticking. Moreover, we adopt a paper detection system in order to adjust appropriately according to the thickness of the paper.
We recommend equipment to you:
360T paper folding machine
470T paper folding machine