Children Board Book Gluing Machine
Children Board Book Gluing Machine with Wire Mesh for Saving Glue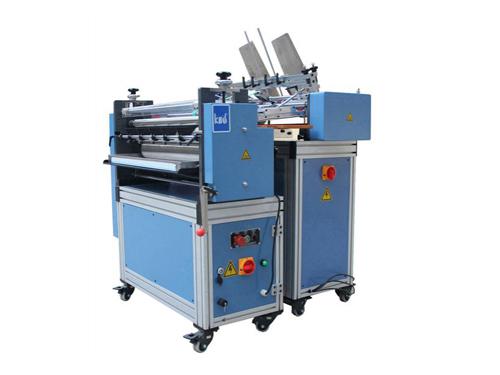 Introduction
KMD's children board book gluing machine is suitable for automatic paper feeding after the children's card book pages are arranged. After the glue is applied, pages will be stuck manually. The machine adopts single automatic paper feeding structure and the anilox roller, which can save glue and also make sure the glued paper is not deformed.
The children board book gluing machine consists of two parts: an automatic paper feeding device and a gluing unit, which can automatically convey the folded paper card and automatically apply the glue.
Parameters
| | |
| --- | --- |
| Maximum size of paper to glue on(W*L) | 600x300mm |
| Minimum size of paper to glue on(W*L) | 50x80mm |
| The range of paper to mount | 300gsm-800gsm |
| Maximum speed | 10000pcs/h |
| Total power | 1.1kw |
| Net weight | 350kg |
| Dimension(L*W*H) | 800x1000x1450mm |
Characteristics
The anilox roll is used for gluing, which can save glue and makes the thickness of the glue adjustable.

The paper feeding system with the Feeder head has paper detection functions, which only allows one sheet to pass at a time. If two or more sheets of paper pass at the same time, the device will automatically block and suspend the operation.

The touch screen with easy-to-operate human-machine interface is simple and convenient.

The paper feeding device and the glue unit adopt the control system of stepless speed adjustment, which can adjust the working speed of the machine according to the needs and productivity of the customer.
The gluing machine can replace traditional manual paper feeding, which has increased productivity and greatly reduced labor costs.
Shengyou is is an experienced manufacturer of paper folding equipment and children book equipment founded in 2000. We provide customers with high quality paper folding machines, book card pasting machines, board to board pasting machines, and auxiliary equipment including buckles for paperboard folding machine, electric folding knife for paper folder. What's more, we offer a variety of paper folding solutions to meet customer needs according to the various paper formats, paper typesets, and paper size and thickness. Our company has the ability to design, manufacture and sell buckle folders and children book machines independently.