Vertical Paper Stacker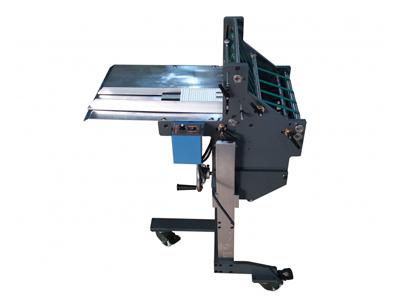 The vertical paper stacker is suitable for smaller-sized folding sheets, and is ideal for situations where a normal paper stacker cannot complete a smooth delivery, as it will neatly align and arrange the folded paper. The counting function is also completed accurately when the main machine processes paper in a consecutive manner, effectively solving problems that arise with a smaller machine, thus ensuring delivery is more efficient and saves time. If you do not have any special requirements for a paper stacker, we do suggest simply utilizing the paper stacker that comes with your machine.
Parameter
Max feeding sheet size(W*L) : 270*80mm
Min feeding sheet size(W*L) : 20*30mm
Sheet range : 40-157g
Max folding roller speed : 180m/min
Machine power : 180 W
Machine net weight : 60kg
Overall dimension(L*W*H) : 700*550*1250mm
Characteristics
Shengyou is is an experienced manufacturer of paper folding equipment and children book equipment founded in 2000. We provide customers with high quality paper folding machines, book card pasting machines, board to board pasting machines, and auxiliary equipment including buckles for paperboard folding machine, electric folding knife for paper folder. What's more, we offer a variety of paper folding solutions to meet customer needs according to the various paper formats, paper typesets, and paper size and thickness. Our company has the ability to design, manufacture and sell buckle folders and children book machines independently.